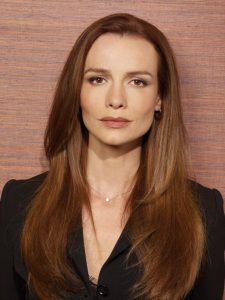 English-American actress Saffron Burrows had her career beginnings in the early '90s. During this period, she appeared in the films Circle of Friends, Hotel de Love, Nevada, and The MatchMaker. She then became known for starring in the movie Wing Commander. She later gained further recognition for her role as Dr. Susan McCallister in the film Deep Blue Sea. In the 2000s, she had notable roles in the movies Timecode, Enigma, Tempted, Frida, Troy, Perfect Creature, Reign Over Me, and The Bank Job, among others.
She also became known for her role as Lorraine Weller in Boston Legal. She next appeared as Dr. Norah Skinner in nine episodes of My Own Worst Enemy. In the 2010s, she played Det. Serena Stevens in Law & Order: Criminal Intent. She also played Victoria Hand in Agents of S.H.I.E.L.D. She's now a regular cast of the series Mozart in the Jungle where she plays the role of Cynthia. She's been starring on the said show since 2014.
The 45-year-old actress stays in shape by sticking to a healthy lifestyle. Despite being in her 40s, it is obvious that the actress has an amazing physique and she owes this to her healthy eating habits. For one, she stays away from processed foods as much as possible. Avoiding from sugar is one way of protecting her skin. She instead opts to drink plenty of water. This helps her curb her hunger and makes her skin even more radiant. The healthier the skin is, the younger one looks. In an interview, the actress became candid about her eating habits.
When asked her ideal food day would be, she said: "For breakfast, eggs, mushrooms, hot buttered toast, porridge, half a grapefruit, and rooibos chai tea. For lunch, chicken vegetable soup, salami, olives, and Midnight Moon goat cheese. For supper, beef and pasta with vegetable sauce or pasta with pesto." She also does her best to stick to organic foods most of the time. She said: "I eat organically as much as possible."