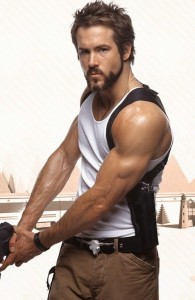 Former-comedic-star-turned-action-hero Ryan Reynolds has come a long way from his Van Wilder days. The Canadian actor initially started his career on Canadian television with such shows as Fifteen and The Odyssey before showing his full-on comedic streak in the sitcom Two Guys and a Girl, which basically gave him the opportunity to star in more films in the early 2000s. In 2004, however, he played an action figure, Hannibal King, in Blade: Trinity, which also showcased his new chiseled body. He next starred in the horror movie The Amityville Horror.
Despite discovering how he could pull off tremendously well non-comedic roles, he still starred in some romantic-comedy films like Just Friends and The Proposal. He also continued exploring the superhero/action genre after getting the role of Wade Wilson / Deadpool in X-Men Origins: Wolverine (2009). Continuing his fondness for action, he got the titular character in Green Lantern, where he also met his then-future wife Blake Lively. His most recent movies are Mississippi Grind, Woman in Gold, and Self/less.
Ryan openly admitted how he was less careful when he was younger. He didn't really take workouts that seriously and he didn't care what he ate or drank. But his being cast in Blade: Trinity somehow required him to realize how he needed to make some changes. For three months, the actor worked out for six days in a week and maintained 3,200 calories as part of his daily diet. This proved to be effective as he gained 25 pounds of muscle, which was pretty visible in the said movie.
To help him with his workouts, Ryan has been working with trainer Bobby Strom for eight years since the Blade: Trinity. Every workout starts with a 20-minute ab workout. Some of his routines include doing Decline Bench situps, Hanging leg lifts, and Wood chops on cable for the first set. Second set consists of Swiss Ball crunches, Decline Bench Body Bar twists, and The Wheel from Knees. All are done 15-20 reps.