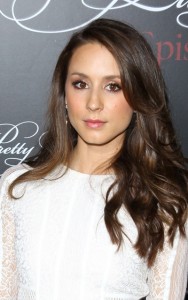 Troian Bellisario's entry to show business is not unprecedented since her father is Donald P. Bellisario, producer of the hit series NCIS. She was three when she made her screen debut on film. During her childhood, she made some appearances on both film and television, giving her a significant training ground as an actress. Her breakthrough came in 2010 when she was already in her mid 20s after landing a main role on the television series Pretty Little Liars. The series still currently airs on TV. Her films in the 2010s are C.O.G. and Martyrs, and mostly short films, too. While on Pretty Little Liars, she has also appeared in two episodes of Suits.
She may play a high school student in Pretty Little Liars but the pretty actress is already actually in her 30s. Her looking beautiful and fit has something to do with her healthy lifestyle, of course. Aside from doing aerial workouts, it also seems that Troian is into healthy cleanse juices just like her pal and PLL co-star Ashley Benson. This became known after she posted an image of a Blue Print Cleanse juice. The actress also puts emphasis on moderation when it comes to her eating habits.
She believes in the importance of not starving herself, thus she makes sure she's always filled up, but mostly with nutritious food. She's into greens, so she mostly eats salad and green smoothies as well. For proteins, she relies on eating chicken and fish. Of course, she's fond of fruits which she always has and eat for snacks instead of munching on processed foods. Speaking of snacks, she also likes eating yogurt, almonds, and sometimes potatoes in between meals. Sure, the actress has cravings, too; this includes pizza, burgers, and fries, but she rarely eats them. When she does, she doesn't have a lot.