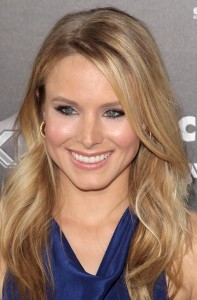 35-year-old Kristen Bell got her big break in 2004 as the titular character in the hit show Veronica Mars, which she played for three seasons. Since then, she played memorable characters on the small screen like in Heroes and had significant contribution in Gossip Girl. Her next lead role on television came as Jeannie van der Hooven in House of Lies (2012-present).
Kristen also made a successful venture into the big screen, first getting mainstream recognition for her role in the romantic comedy Forgetting Sarah Marshall. She proved to be a versatile actress for her performances in Couples Retreat, Burlesque, Scream 4, and many others. She is also best known for voicing Princess Anna in the box office hit Frozen.
Standing at 5'1, the former Veronica Mars lead star is a certified petite. Known for being slim since starting out in the show business, she has since maintained her slender figure and is even doing a better job when it comes to also keeping herself fit and strong. Aside from her serious workout routine, Kristen follows a diet plan to ensure she stays healthy. Interestingly, she became a vegetarian when she was only 11. In an interview with PETA, the actress was noted for saying:
"I have always been an animal lover. I had a hard time disassociating the animals I cuddled with—dogs and cats, for example—from the animals on my plate, and I never really cared for the taste of meat. I always loved my Brussels sprouts!"
In 2012, she announced she began practicing a vegan diet. This happened after watching the documentary Forks over Knives. She's also cautious when it comes to consuming processed foods that she has her own field of fruits and vegetables. She usually starts her day with a smoothie consisting of banana, apple, spinach, kale, romaine, coconut juice, and lemon juice. During weekdays, she imposes a strict diet and indulges on her cravings such as sweets on the weekends.