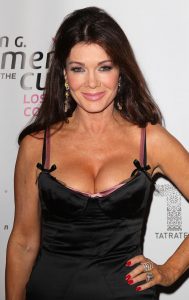 As an actress, Lisa Vanderpump started her career in the 1970s. She debuted in the British film A Touch of Class. She next guest-starred in an episode of John Halifax, Gentleman. She later starred in the movie Killer's Moon and had a recurring role in the TV series Kids. During the 1980s, she had performances in the films The Wildcats of St. Trinian's and ABC Mantrap, as well as guest-starred in the TV shows Leap in the Dark, Sunday Night Thriller, and Something in Disguise.
She continued acting in the '90s — landing one-time appearances in Absolutely ABC, Silk Stalkings, and Baywatch Nights. She also starred in the film Separate Lives. In the 2010s, she became further known for her work on reality television. Since 2010, she stars in The Real Housewives of Beverly Hills. She also currently headlines another reality show, Vanderpump Rules. She went on to appear as herself in an episode of The Comeback. In addition, Vanderpump competed in Dancing with the Stars during its 16th season. In 2014, she was one of the judges in the Miss Universe pageant.
Apart from living an active lifestyle, the reality star also takes care of herself by watching what she eats. When it comes to her diet, she tries to limit her carbs intake. But being in the restaurant business, it's a challenge for her to avoid food and especially wine. "I try not to eat carbs at night, but I am a restauranteur so I do have a passion for wine and I can't help that," said the TV personality.
"I eat reasonably healthy but I still eat chocolate, potatoes, and pasta. I'm probably chubbier than I should be — in my butt — but you know, everyone could probably stand to lose a few pounds. I try to keep it together but I don't take it too seriously."