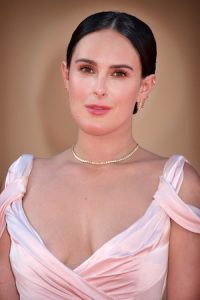 Hollywood star Rumer Willis started her professional acting career in the 1990s. She initially appeared in the films Now and Then and Striptease as a child actress. During her teens, she had roles in the movies The Whole Nine Yards and Hostage. She pursued acting full-time as an adult, playing supporting roles in the films From Within, The House Bunny, Whore, Wild Cherry, as well as starring in the slasher film Sorority Row.
On television, she guest-starred in Miss Guided, Army Wives, CSI: NY, Medium, and The Secret Life of the American Teenager. Her first recurring role was as Gia Mannetti in 90210. She then guest-starred in Workaholics, Hawaii Five-0, and Pretty Little Liars. In the 2010s, Willis had performances in several films, including The Diary of Preston Plummer, The Odd Way Home, Return to Sender, There's Always Woodstock, The Escort, and Hello Again.
In 2015, she joined and was the champion of Dancing with the Stars Season 20. She went on to star as Tory Ash in the TV series Empire. After this, she appeared as Lion in several episodes of The Masked Singer. Other film roles include Future World, Air Strike, and What Lies Ahead. Willis also portrayed Joanna Pettet in Quentin Tarantino's Once Upon a Time in Hollywood. To add, she recently guest-starred in an episode of 9-1-1.
In an interview, Rumer Willis said she doesn't really follow any diet plans and that her slender figure is a result of her active lifestyle, including her dancing. "I pretty much eat the same things. I mean French fries is a very large part of my diet," said the actress. "But honestly, that's just one of the reasons why I like dancing. I don't like standing on a treadmill."
The actress also revealed that she doesn't like workouts like running on treadmills. "To me, running on a treadmill, that seems so monotonous and I'm not working toward anything," she said. "At least when I was dancing, I felt like, I'm doing something that's going to give me something back. It's not just for the sole purpose of trying to make my body look a certain way."