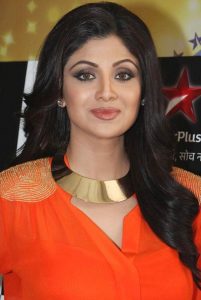 Indian celebrity Shilpa Shetty is mostly known for her work in Bollywood. She started early during her teens working as a model. By mid 1990's she started an acting career. Her debut was in Baazigar. She was nominated for Best Supporting Actress at the Filmfare for this. Her role in Main Khiladi Tu Anari garnered her wider exposure. The rest of the '90s saw her gaining negative reviews and starring in box office flops. This changed in the early 2000s thanks to the film Dhadkan. Luckily for her, the rest of the 2000s turned out to be great. She starred in the box office hits Garv, Auto Shankar and Apne. She was then acclaimed in the feature Phir Milenge. Her joining the British reality series Celebrity Big Brother 5 gained her attention from international audiences.
The 41-year-old actress stays slender and fit through proper nutrition and healthy living. She got stricter with her diet plan especially after giving birth to her child. She got rid of her post-baby weight by engaging in her fitness routine and sticking to a healthy diet. Her personal trainer said that to gain back her original body, she had to practice a strict diet with limited carbohydrates. This means that there was balancing of protein involved. This was alongside lots of eating of vegetables and fruits.
Through this, Shilpa was able to shed 21 pounds in only three and a half months. What's more is that she was able to lose weight naturally. No cosmetic procedures involved. As her personal trainer had put it, "anything is possible with right guidance, dedication and sacrifices." Even now that's slimmer and overall lean, the award-winning actress still practices a healthy diet. She sticks to her low-calorie diet and gets her energy from lean proteins and fruits and veggies. She also eats in moderation as she understands the importance of portion control.