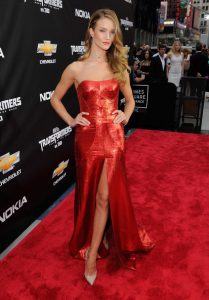 Prior to pursuing an acting career, Rosie Huntington-Whiteley was already an established model. She became a Victoria's Secret Angel and modeled for such brands as Burberry and Marks & Spencer. In 2011, she made her acting debut playing the role of Carly Spencer in the sci-fi action movie Transformers: Dark of the Moon. She reprised Megan Fox as the female lead. However, her portrayal in the film was not well-received.
She even got nominations for Worst Supporting Actress Award. A few years later, she had her second acting role in the 2015 movie Mad Max: Fury Road. She played the role of The Splendid Angharad. Her latest work as an actress is the part of Lindsey in the 2019 feature film The Sound of Philadelphia. As a fashion model, she has walked the runways for Givenchy, Burberry, Oscar De La Renta, Valentino, Michael Kors, Roberto Cavalli, and many others.
Huntington-Whiteley maintains her toned figure through healthy eating and workouts. Being a model, exercising is a normal part of her routine. Of course, she works out not only to stay slim but to also feel strong. In her line of work, a model and actress that is, strength and high energy levels are crucial. Fortunately, working out helps her achieve both. In an interview, she got candid about her workout routine.
"In LA I've been going to a workout class called Body By Simone for the last four or five years. It was founded by an ex-dancer called Simone De La Rue and it's high-intensity dance cardio and a lot of movements using your own body weight," said the model-actress.
"And in London, I've been training with a girl called Lucy at Third Space doing weights, which I've been really enjoying. I think people get nervous that they're going to bulk up, but actually it's been great," she added.