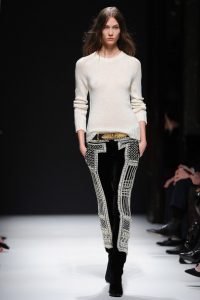 Karlie Kloss is one of today's most prominent models. From 2013 to 2015, she achieved mainstream fame as a Victoria's Secret Angel. Initially, Kloss started her modeling career at age 14. Her first ever modeling job was an editorial shoot for Scene Magazine in Chicago. She later modeled for Abercrombie Kids. After getting signed to NEXT Model Management, she landed several runway stints in New York Fashion Week. During this event, she opened Carolina Herrera and closed Marc Jacobs.
Following her success in New York, she traveled to Milan and Paris where she established her stardom as a fashion model. She next signed with IMG Models and continued her prolific work in fashion. She's been featured in several ad campaigns for such brands as Jean Paul Gaultier, Donna Karan, Dolce & Gabbana, Dior, Hermès, Adidas, and many others.
Her work doesn't stop there — she's also appeared in several editorials for huge magazines like W, Elle, Allure, and Vogue, to name a few. Later, she ventured into television. She appeared as herself in an episode of Gossip Girl Season 4. In 2015, she launched her YouTube channel called Klossy. More recently, she appeared with a small role in Netflix's Bill Nye Saves the World. She now hosts her own TV show Movie Night with Karlie Kloss, which airs on Freeform.
Apart from a clean diet plan, Karlie Kloss maintains a fit body by following an active lifestyle. One of her go-to workouts is running. She loves running so much that she's even joined a marathon! "I ran the marathon in New York City which was a new challenge for body and mind! There's hope for anyone – if I can do it, anyone can. I swear I've never been a runner my whole life, so running a marathon is the most insane task that I never thought I'd be able to accomplish," said Kloss.
"But with training, it is possible, I promise. Running has been something I've gotten much more into. Also, I love light strength training – high reps using different weights and things that build long and lean muscle."