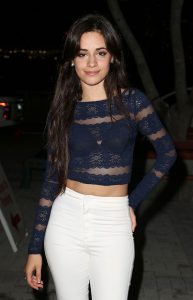 First rising to fame as a member of the girl group Fifth Harmony, singer-songwriter Camila Cabello has certainly gone a long way. She first auditioned on The X Factor, which got her chosen as one of the members of the aforementioned all-female group. Even when she was with Fifth Harmony, she's built a career as a solo artist. For instance, she collaborated with such artists as Shawn Mendes and Machine Gun Kelly.
In 2016, she left the group and continued working with other artists, including "Hey Ma" with Pitbull. The following year, she released her debut solo single "Crying in the Club", reaching Number 47 in the US. In 2018, she released her debut solo album Camila, which spawned the lead single "Havana". This became an international hit, reaching top several charts across the globe. Her second single "Never Be the Same" was also a success.
For a live version of Havana, she was nominated at the Grammys for Best Pop Solo Performance. The album Camila also received a Best Pop Vocal Album nomination. On television, she's made appearances as herself in Faking It, Barbie: Life in the Dreamhouse, and Dancing on Ice. In addition, Cabello was also featured in Taylor Swift's concert film Taylor Swift: Reputation Stadium Tour. This year, it was announced that she will star in the upcoming adaptation of Cinderella.
The 22-year-old actress admits that she's not fond of workouts. She makes efforts to exercise but with her crazy schedule, it seems impossible. Despite this, she manages to keep herself fit thanks to her active lifestyle. For starters, she's a performer so dancing is a huge part of her routine. "I'm pretty bad at keeping fit other than the fact that I'm always moving around and running around," said the singer. "My show that I do every night is super active – there's a lot of dancing and I jump around a lot."