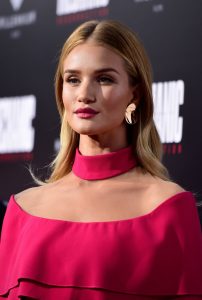 English model and actress Rosie Huntington-Whiteley started her career as a model, doing so when she was 16. Her first modeling gig was in a Levi's commercial. She was next featured in Teen Vogue, gaining her notice as a model. She later appeared in an ad for Abercrombie & Fitch. She became further known after landing a gig for Burberry's autumn/winter campaign. In 2008, she landed her first cover on British Vogue alongside other British models.
In 2010, she became a Victoria's Secret Angel. She has since walked in various well-known fashion shows, modeled for popular brands, and appeared in prominent magazines. Ultimately, she ventured into acting, playing the role of Carly Spencer in the 2011 movie Transformers: Dark of the Moon. She next appeared in the film Mad Max: Fury Road, which was released in 2015. Rosie continues her work as a model until present.
The 31-year-old celebrity stays in shape by following a healthy diet plan. Being a model and an actress, it's kinda her job to do so. In an interview with Glamour, the British beauty admits that she follows a strict diet. She misses a lot of foods, but she swears by it nonetheless. Why? Because it makes her feel great inside and out. "It's been really tough. I can feel it in my skin, I can feel it in my body, I feel lean right now, and I feel strong and I feel energized," she said.
So, what are the foods she misses? She revealed: "I miss a glass of wine, I miss my cheese plates, and I miss my croissants." The model went on to say: "My kind of balance is trying to eat really well at home and then when I go out…I try and still make smart choices. But if I'm going to have some French fries or if I'm going to share a pudding or a dessert with somebody, you want to enjoy those things in life."