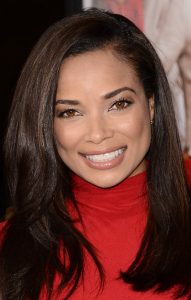 Hollywood star Rochelle Aytes had her career beginnings when she debuted in an episode of The Outer Limits in 2001. She went on to have one-episode roles on Sex and the City, Jonny Zero, and My Wife and Kids. In 2004, she made her film debut as Denise Porter in the movie White Chicks. She next appeared as Lisa in Madea's Family Reunion and Maria in the horror feature Trick 'r Treat. Her first regular role on the small screen was as Leigh Bartnhouse on the short-lived Fox series Drive. She next made guest appearances on Dirt, Las Vegas, Bones, Mistresses, and NCIS.
Afterward, she starred as Grace Russell on the ABC series The Forgotten. In the 2010s, she had recurring characters as Alice Williams on Detroit 1-8-7 and Amber James on Desperate Housewives. She then starred as Vanessa on the ABC sitcom Work It. In 2013, she portrayed Perri "Pebbles" Reid on the TV film CrazySexyCool: The TLC Story. From 2013 to 2016, she played April Malloy on the ABC drama series Mistresses. Simultaneously, she starred as recurring part Savannah Morgan on Criminal Minds. Her latest role in movies was in 2018's Magic Camp.
Apart from her healthy diet, the actress stays fit and slim by exercising and staying active overall. Being a professional dancer, it's also easier for her to keep her figure slender and toned. But aside from dancing, she also works out to maintain her body's good shape. "I take dance class every now and then, but it's not as often as I would like to. However, exercise is very important to me. I do yoga, Pilates, or just work out at the gym," she said. On the set of her projects, she also dances as her way of prepping herself in between shoots. "By the way, I love to dance around on set. It gets my blood going and takes me out of my head," the actress said.