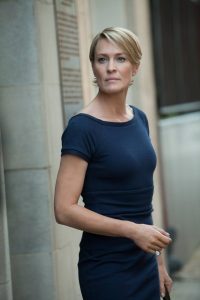 It was in the 1980s that actress Robin Wright started her acting journey. Her first notable work was on television with her role as Kelly Capwell in the soap opera Santa Barbara. Soon she transitioned into acting on the big screen with her first starring role in 1987's The Princess Bride. In the '90s, she cemented her fame with notable performances in the movies Forrest Gump and Message in a Bottle.
Following this, she starred in the 2000 film Unbreakable. In the next decade, she was seen in such films as The Conspirator, Moneyball, The Girl with the Dragon Tattoo, and Everest. She also recently starred in the 2017 movie Wonder Woman, as well as in the sci-fi feature Blade Runner 2049. On television, she is currently best known for her role as Claire Underwood in Netflix's House of Cards. Her performance here has been widely acclaimed, winning a Golden Globe for Best Actress in 2013. She has also earned Primetime Emmy nominations consecutively from 2013 to 2017.
Aging doesn't affect Hollywood star Robin Wright much. Looking at her (she's 52 this year), it's amazing how she's able to maintain her slim and toned figure. But her secret to a fabulous body is just actually living well. Aside from eating clean and healthily, she also makes sure that she works out on a regular basis. For one, Robin works with a trainer. One of the things she does to keep fit is SoulCycle. Of course, she can't just keep on working on a SoulCycle all the time. She knows she needs a variation when it comes to performing her workouts.
According to her trainer, Robin's usual exercise regimen involves "barre work, pole dancing, and yoga". The actress is also fond of running. In an interview, she said: "Running gets everything done, doesn't it? Covers it all." For her role as a warrior in Wonder Woman, the actress also prepped her body to look the part. Talking about her training for the said movie, she said: "We would do horse riding for an hour, then drive from the stable to the studio and do weight training for an hour—heavy weights and short reps to build size quickly."