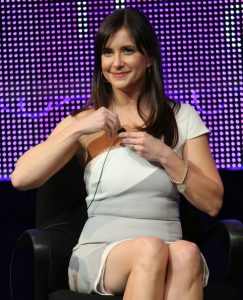 It was in 1982 that actress Kellie Martin started her acting journey. She made her debut in an episode of Father Murphy. She has since made more appearances after her first one. Her first notable role was as Tracy in The Hogan Family. In 1986, she made her first film role in Body Slam. The rest of the '90s saw her performing in the films Jumpin' Jack Flash and Troop Beverly Hills. She later became known for starring as Daphne Blake in the series A Pup Named Scooby-Doo.
In the '90s, she played the lead roles in the shows Life Goes On, Taz-Mania and Christy. She later portrayed Lucy Knight in ER, as well as worked as a voice actress in The Powerpuff Girls. In the 2000s, she played Samantha Kinsey in Hallmark's Mystery Woman TV film series. In 2012, she joined the cast of Army Wives as Nicole Galassini. She next played Hailey Dean in Hallmark's Hailey Dean Mystery TV movies. Her recent role on television is as Kimberly Leahy in the comedy series The Guest Book.
The television actress makes sure she practices an active lifestyle to stay in shape. Of course, one of the thing she can do is to work out regularly. While a regular workout session can be tough to maintain with her crazy schedule, she makes sure she makes it up with just basic physical work like walking and running. She also states that working out is what makes her feel great both physically and mentally. For this reason, it is even more crucial for her to exercise whenever she can.
In an interview, she got candid about her workout habits. She said: "I plan my days to always include a workout — no matter how busy I am. If I'm working out at 9:30 p.m., so be it. Working out is that important to my mental well-being!" She also said that exercising is how she feels productive and how she feels prioritized even after becoming a mother. She explained: "For me, that meant working out every day, making sure I caught up with friends and simply getting out of the house."