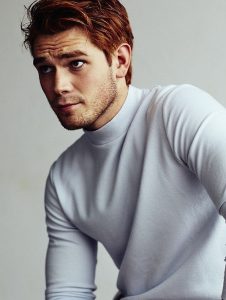 KJ Apa is one of Hollywood's rising male stars. He is a New Zealand actor who started his career in his native country, playing Kane Jenkins in the soap opera Shortland Street. He was on the show from 2013 to 2015. Following this, he pursued a career in Hollywood, landing a starring role in the movie A Dog's Purpose. In the film, he played the teenage Ethan Montgomery.
It was also during this period that he successfully secured the role of Archie Andrews in The CW's Riverdale. The series is based on the characters of Archie Comics. He still continues to star in the series up to present. For his performance, he won the Breakthrough Performance at the Saturn Awards. He was also nominated for Choice Breakout TV Star at the Teen Choice Awards. He also has upcoming films, which are The Hate U Give, Altar Rock, and The Last Summer.
The 21-year-old actor apparently works out. He often showcases his ripped physique in his show Riverdale and he also allows his fans to take a peek at his workout routine through social media. Even when he's on the go and doesn't have enough time to work out, he manages to be resourceful with some of his tricks. Some of which he shared on his Instagram account. Posting an entire brief workout, he said in his caption:
"Perfect way to end a day of work! Dumb bell swing / burpees 1,2,3,4,5,6,7,8,9,10,9,8,7,6,5,4,3,2,1 reps
Eg. 1 DB swing 1 burpee, 2 DB swing 2 burpees and so on and so on to 10 then back down again." He went on to say: "Such a sick workout, perfect if you are running low on time but still really want to smash yourself. 10/15 mins!" Seeing his physique, in which his body is just perfect for his stature, it is apparent that the actor knows what he's doing.