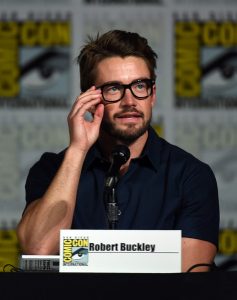 Hollywood actor Robert Buckley got his beginnings in the mid-2000s. He made his film debut in the straight-to-video When a Killer Calls. On television, his first role was as Michael Bauer in the short-lived series Fashion House. He next landed the role of Michael Wakefield in another short-lived show American Heiress. In 2008, he made his big screen debut in the movie Killer Movie.
At the same time, he played Kirby Atwood in the series Lipstick Jungle. He gained mainstream recognition after landing the role of Clay Evans in One Tree Hill, where he was part of the main cast from seasons 7-9. Following the show's finale, he played Brian Leonard in 666 Park Avenue. Subsequently, he landed the role of Major Lilywhite in the The CW series iZombie, a role he still plays up to present. He's also guest-starred in the television shows Powerless and Dimension 404.
For the 37-year-old actress, getting fit and ripped isn't just about health and fitness, it's also about career opportunities in Hollywood. Because to set the record straight, it's part of the whole package. "I keep myself in good shape because it opens more doors," he said. How does he find his motivation to be consistent with his workout routine? Music. He said: "Music is a must when I work out. For example, my training session today, start to finish, was fueled by DMX, and it was a joy."
So, what's his workout regimen look like? He revealed: "When I'm in Vancouver with my trainer, we do really intense circuits, like assault bike, then squats, then bench, then pushing a sled, with only, like, a 30-second break between each thing. I like that because there's no time to be bored. When there's a two-minute break between sets in a workout, I catch myself being kind of ADD. With this one, you're actually begging for more downtime because you're hurting. It's just constant stimulation." He also lifts weights five times a week.