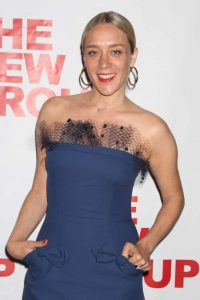 It was in the 1995 controversial film Kids that Chloë Sevigny got her Hollywood start. After this she had roles in the movies Trees Lounge, Palmetto, and The Last Days of Disco. Her portrayal of Lana Tisdel in the movie Boys Don't Cry then got her critical praise. Her movie career in the 2000s became more flourished. During this period, she had notable performances in the films American Psycho, Dogville, Melinda and Melinda, Manderlay, and Zodiac, among others. She also became known on television for her role as Nicolette Grant in the HBO series Big Love.
In the 2010s, she played the lead in the short-lived British series Hit & Miss. She went on to have recurring roles in the TV shows American Horror Story: Asylum, Portlandia, and The Mindy Project. She then played the lead in the series Those Who Kill, though it was cancelled after one season. Following this, she played Chelsea O'Bannon in the show Bloodline, as well as portrayed Dr. Alex Lowe in American Horror Story: Hotel. In addition, she recently portrayed Lizzie Borden in the biographical film Lizzie. She also stars in the upcoming movie The True Adventures of Wolfboy.
In order to maintain her healthy weight, as well as her overall wellness, the actress makes sure she leads an active lifestyle. To do this, she always tries new workouts and sticks to the ones that work for her. She also wants her workout routine to be varied so switching things up is something that interests her. She wants her exercises to be fun and engaging as this helps to motivate her get moving. In an interview, she shared about her fitness regimen.
She explained: "I do a dance-based cardio workout infused with circuit training, and emphasizing strength and alignment. I work with a trainer, Ariel Hoffman. We are trying to achieve a sculpted yet lean look. We just started a few weeks ago. I'm trying to meet her three or four times a week. It's the most fun I've ever had exercising!"