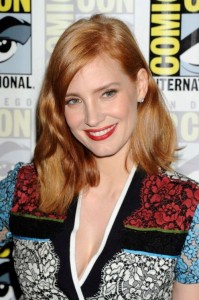 Jessica Chastain's Hollywood beginnings include guest appearances on television in the mid 2000s. Some time in the late 2000s, she was able to score her first lead role, which also happened to be her film debut, in Jolene (2008). She was instantly noticed for her talent in the said movie that she followed it with other starring roles in The Debt, Take Shelter, Coriolanus, and The Tree of Life, though it was her performance in The Help (2011) that got her significant attention as she was nominated for an Oscar for Best Supporting Actress. After starring in more films in the next few years like Texas Killing Fields, The Color of Time, and Lawless, she was further exposed, thanks to her performance in the acclaimed film Zero Dark Thirty (2012). Her portrayal of the lead character in the film secured her an Oscar nomination in the Lead Actress category. She continued her path to stardom with lead roles in Mama, The Disappearance of Eleanor Rigby, Interstellar, A Most Violent Year, The Martian, and most recently, Crimson Peak.
Jessica's career seems to be continuously taking off as she's getting older in the business. At age 38, the actress also looks radiant. Standing at 5'4, Jessica's slender figure is also highly noticeable. More importantly, Jessica is one of the celebrities in Hollywood who practices a vegan diet. She's been a vegetarian for 15 years and began practicing veganism five years ago. Inspired by her mother who's also a vegan and even runs vegan restaurants, she is a believer that being a vegan not only promotes animal welfare but also ensures long-term health benefits. In fact, she was able to lose extra pounds just by practicing said diet.
Jessical also revealed that avoiding any animal products has kept her healthy and slender throughout the years. Even movie roles couldn't interfere with her diet as when she was supposed to eat chicken for a scene in the movie The Help, she insisted that she eat a vegan chicken and not the real one. Also, since vegans don't also consume dairy products, Jessica satisfies her ice cream cravings by replacing it with vegan ice cream.