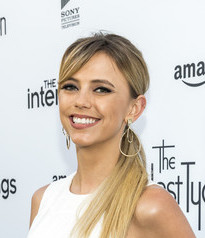 Hollywood star Riley Voelkel debuted as an extra in the 2010 movie The Social Network. Thaat same year, she also made her television debut in an episode of Glory Daze. She next appeared in the teen film Prom. After this, he starred in the movie Hidden Moon, as well as guest-starred in The Mentalist.
She was then cast for the recurring role of Jenna Johnson in the HBO show The Newsroom. She played the said character between 2012 and 2014. At the same time, she also had a performance in the movie The Secret Lives of Dorks. She also simultaneously appeared as Young Fiona Goode in some episodes of American Horror Story: Coven. After her role in The Newsroom ended, she was cast as Freya Mikaelson in The Vampire Diaries spin-off, The Originals.
She was part of the show's regular cast from 2014 to 2018, ultimately gaining her mainstream fame. After starring in an unaired pilot and in the TV film Advance & Retreat, Voelkel landed the role of Jenna Cameron, a recurring character in Roswell, New Mexico. She went on to reprise her role as Freya Mikaelson in another spin-off, Legacies. This year, she just starred as Renee Shaw in the new Starz series Hightown.
Riley Voelkel stays in shape by following a healthy lifestyle. She exercises as regularly as possible, as well as opts a nutritious diet plan. For starters, she's since cut back on eating junk foods. She also rarely eats red meat or anything fatty and oily. Aspiring to be in her best self, she finds herself more committed to having balanced meals consisting of healthy fats, complex carbs, lean proteins, and high-fiber foods.
She prefers eggs and toast in the morning with coffee or an oatmeal with fruits, smoothies, fruits, or almonds for snacks, and fish or chicken, rice, and salad for lunch and dinner. While she mainly chooses healthy foods, the actress is not into any strict diets. Every now and then, she still indulges in her cravings.