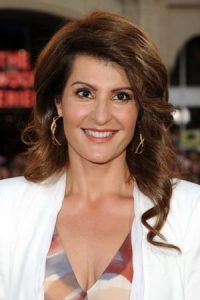 Hollywood actress Nia Vardalos had her career beginnings in the mid-1990s, starting with uncredited roles on TV. That same period, she made her film debut in the low-budget movie No Experience Necessary. Her first starring role came as a voice actress, playing Domino on the animated show Team Knight Rider. After guest-starring in an episode of Curb Your Enthusiasm, she rose to fame for starring as Toula Portokalos in the romantic comedy film My Big Fat Greek Wedding. For her performance, she earned several nominations, including a Golden Globe Award for Best Actress – Motion Picture Comedy or Musical.
Her newfound success resulted in her hosting Saturday Night Live in 2002. She reprised her role in the CBS series My Big Fat Greek Life, a continuation of the film. She later starred in the films Connie and Carla, My Life in Ruins and I Hate Valentine's Day. In the 2010s, she had performances in the movies Larry Crowne, For a Good Time, Call…, An American Girl: McKenna Shoots for the Stars, Dealin' with Idiots, and Car Dogs. She went on to play Attorney Minonna Efron in Law & Order: Special Victims Unit and Annie Spiro in Graves. In 2016, she reprised her role as Toula Portokalos in My Big Fat Greek Wedding 2. She recently guest-starred in Crazy Ex-Girlfriend.
The 56-year-old actress gained 40 pounds back in 2009, but she did it for her overall well-being and not for the sake of looking slim. "I never felt well, I was constantly getting dizzy and because I already had thyroid disease I had a serious blood sugar issue. My choices were to lose weight or go on medication," said the actress. But instead of relying on pills, she decided to take her weight loss journey slowly. She started taking walks and cutting out foods that are high in sugar and starch from her diet. After that, she felt better so she continued with sticking to a healthy lifestyle. "I only shop the perimeters of the grocery store now, where all the produce, dairy, and fresh fruit are. Everything in the middle is just junk!" Vardalos said.