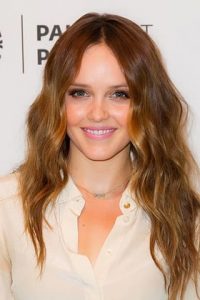 Aussie actress Rebecca Breeds had her career beginnings in 2000. She first appeared in the TV program Water Rats. Some years later, she became more active on the screen. She played Tina/ Cassie Cometti in the Australian drama series Blue Water High. She starred on the show from 2006 to 2008. Afterward, she portrayed Ruby Buckton in the long-running soap opera Home and Away. She joined the main cast and stayed on the program between 2008 and 2012.
This gained her mainstream fame in her native Australia. She later starred in the Bollywood movie Bhaag Milkha Bhaag. At the same time, she pursued a career in Hollywood. Her first acting role there was as Abby Russo in the sitcom We Are Men. The series aired on CBS for only one season in 2013. She later gained recognition for her role as Nicole Gordon in the popular show Pretty Little Liars.
She simultaneously starred as Aurora de Martel in The Vampire Diaries spin-off The Originals. After this, she starred in the miniseries Molly. She also played the lead in the pilot called Miranda's Rights. In 2017, she guest-starred in an episode of The Brave, as well as starred in the Aussie film Three Summers. Her most recent acting role was in the 2018 Australian movie Slam.
For Rebecca Breeds' diet plan, it's all about choosing the right kinds of food and moderation. "The most important thing for me is portion control. I grew up with two older brothers and I used to keep up with them, but I'm small so my meals need to be small," said Breeds. After seeing a nutritionist, she became even healthier in her habits.
"Now I eat six times a day. I have three meals and three snacks. At every meal I will have some protein, like some beans or chicken or fish. I love seafood because it's nice and lean and healthy. For breakfast and lunch I will also have some carbohydrates for energy, but I try not and have carbohydrates at night. In between meals I will have fruit," shared the actress.