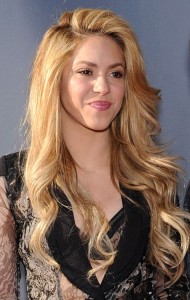 Colombian singer Shakira is now a big star internationally. Starting her singing career in the 1990s locally, she later achieved recognition in Latin America in the mid to late 1990s after the release of her third and fourth albums. For her fifth album, Shakira decided to expand her recording career, releasing her first English-language album Laundry Service with the song "Whenever, Wherever" becoming a worldwide hit in 2002. Since then, Shakira has become a prominent singing and dancing icon with her catchy songs and iconic dance moves. Other hit singles include "Hips Don't Lie" and "Waka Waka (This Time for Africa)". She also became a household name among television viewers after appearing as a coach and judge in The Voice's fourth and sixth seasons. Her most recent hit song is "Can't Remember to Forget You" from her tenth album Shakira released in 2014.
Part of Shakira's charm is her amazing figure especially those lean and fantastic tummy of hers. Basically, her dancing and her being active has helped her maintained such incredible figure all these years. Standing at 5'2, Shakira is still highly noticeable despite her short stature. Now 38 and a mother of two, the singer is still a hottie. Ever wonder why and how? Aside from dancing, she's very fond of aerobics. Of course, in addition to her physical activities which keep her fit and strong, Shakira is also a healthy eater.
Alongside her workout sessions, the singer focuses on maintaining a diet that mainly comprises of fish, fresh vegetables, and limited fats. She makes sure she follows such healthy eating routine to keep her weight at bay and to guarantee that she has long-lasting energy, which she needs throughout the day considering she's busy with both her work and family. Although she mostly sticks to a healthy diet plan, Shakira also gives in to her cravings sometimes, and if there's one thing that she loves, it's chocolate.