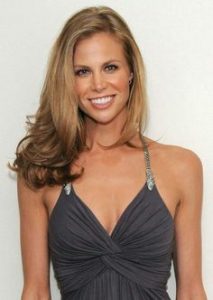 Brooke Burns first starred as Peg in the TV series Out of the Blue. She next appeared as Jennifer Higgin in 4 episodes of Ally McBeal. From 1998 to 2001, Burns played the part of Jessie Owens in the Baywatch: Hawaii. After this, she had her first cinematic role in the film Shallow Hal. She later pursued a hosting career, starring as the host of the TV program Dog Eat Dog.
She went on to star as Nicole Booth in the Fox primetime soap opera North Shore. She also played Kathy Dinkle Williams in the comedy-drama series Pepper Dennis. In 2005, she appeared in the film The Salon, as well as had roles in the straight-to-video films Single White Female 2: The Psycho and Death to the Supermodels. She went on to star in the movies Murder on Spec, Urban Decay, The Art of Travel, and Dancing Trees.
She simultaneously starred as Lisa Germain in the ABC sitcom Miss Guided. From 2008 to 2009, she was the co-host of the game show Hole in the Wall. She subsequently played Vanessa Mancini in Melrose Place. In the 2010s, she continued her hosting work. She hosted such shows as The Chase and Motor City Masters. She also starred in the direct-to-video movie Titanic II and the drama film Where Hope Grows.
Not only does the actress lives an active lifestyle, she also manages her diet by focusing on healthy foods. "I'm a big smoothie girl. My go-to is a green smoothie with banana and almonds. I also eat a lot of oatmeal, especially when it gets cold outside. I like to get creative with my oatmeal by sneaking in a little vanilla and cinnamon and brown sugar, in moderation," said the actress about her typical breakfast.
As for lunch: "The other day, I had a Chinese chicken salad for lunch. Something else I do a lot is mixing up a salad with quinoa, chicken, arugula, corn and other vegetables." For dinner, she'd like some steak, mashed potatoes, and green beans. Still, she does so in moderation. For snacks, she usually has fruits and nuts.