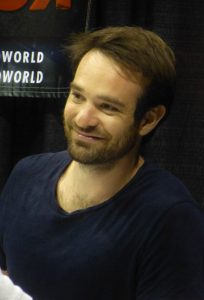 Before getting international prominence as the Daredevil, Charlie Cox was already acting on the UK screen. He initially started this profession in the early 2000s. He appeared in a few TV shows, pilots and TV movies as well in the beginning. He also made a couple of appearances on the big screen, some of which were in The Merchant of Venice and Casanova. In the 2010s, he began his Hollywood career. His first notable role was on Boardwalk Empire. He was next cast as Jonathan in the film The Theory of Everything. His biggest break was as the titular character on the Netflix series Daredevil. He will reprise the same role on miniseries The Defenders.
For his role as the blind lawyer by day and vigilante by night, Charlie did undergo changes on his fitness regimen and eating habits. He needed to build more muscles for the part and gain more mass as well. His training took care of that and seeing his performance on the show, it all paid off. As for his diet, the actor also made sure he was eating the right kinds of food to help him build muscles and boost his agility. When asked about what how he adjusted his eating habits, he said in an interview:
"Well, Daredevil doesn't have any superpowers, so it's not out of the question that he could have more of a Bruce Lee physique. I was about 72kg and quite skinny coming in, and producer Steven DeKnight said, 'We'd love it if we could get you to 175lb [80kg]'. I started eating tons of chicken, broccoli, sweet potato, rice and pasta. I put carbohydrates in all my protein shakes, so I'd have a protein shake with sweet potato in it. It's actually really nice." Since he still plays the role up to present, Charlie better sticks to his healthy eating habit!