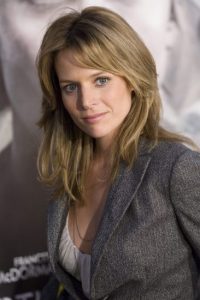 Actress Jessalyn Gilsig started performing in short films in the 1980s. Later in 1989, she had her first film work in Jacknife. In the early 1990s, she worked as a voice actress with her first regular gig on the animated series Young Robin Hood. In 1998, she played the role of Lucy in the Robert Redford-directed film The Horse Whisperer. She also had a voice role in the movie Quest for Camelot. By 2000s, she became more active on television, first becoming known for her role as Lauren Davis on Boston Public.
Following this, she starred as Gina Russo on Nip/Tuck. Simultaneously, she played Det. Kelly Ronson on NYPD Blue and Lisa Rix on Prison Break. She also played Shelley Hayes on Friday Night Lights and Meredith Gordon on Heroes. From 2009 to 2012, she then became known for her role as Terri Schuester on Glee. During this period, she also had performances in the feature films See This Movie, Flood, See This Movie, Prom Night, and The Stepfather. From 2013 to 2015, she played Siggy on Vikings. After this, she played Vanessa Moss on Scandal.
Fitness plays an important role in the actress' overall health and lifestyle. Nearing her 50s, she understands the importance of staying active on a regular basis. As a matter of fact, she exercises first thing in the morning, especially if it's a free day. "I like to exercise in the morning — I like to get up and immediately get into my workout gear," said the actress.
In an interview, she also got candid about her workout routine. "I like high-intensity workouts — Spinning, boxing, cardio barre. I also run, and I have a Spin bike at my house. I find these exercises more meditative too. I think it's important to get healthy, but I like the high-intensity workouts where you can't allow yourself to think about what needs to be done and conversations that you coulda, shoulda, woulda had. I really try to find something that's like a little vacation from my brain", revealed the Vikings star.