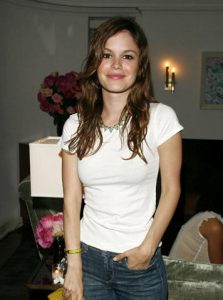 American actress Rachel Bilson's debut was on a TV series in the late '90s. She then acted in a short film. She went on to guest star on 8 Simple Rules and Buffy the Vampire Slayer. From 2003 to 2007, she played Summer Roberts on The O.C.. This made her famous and earned her lots of Teen Choice Awards. While on the show, she made her film debut in The Last Kiss. After The O.C., she starred in the film Jumper. She has since starred in the films New York, I Love You and Life Happens, among others. She returned to television as the title role on the Hart of Dixie. The series ran for four seasons.
The petite actress has since been known for her fashion sense, acting, beauty, and her slender figure. Even now in her mid 30s and a mother to one, she still looks the same. Even before, Rachel is health conscious. Not only does she eat healthy, she also works out. The actress admits to not being fond of going to the gym. But this doesn't mean that she does not work out. She still does by doing it at home or still doing this at the gym. Her workout typically begins with 20 minutes of cardio exercises.
After getting warmed up with cardio, she does squats and lunges. Surprisingly, she also practices resistance training with light weights. Even at only 5'2, you would be surprised of how strong the actress really is. Her workout session finalizes with 10 minutes total body workout routine. This involves three primary exercises: Spider man push-ups, Prone Scissors and double crunches. Overall, this targets her entire body from arms to legs. When she's not in the mood for any workout sessions, she gets active by dancing and playing tennis. This way, she gets to have fun, too.