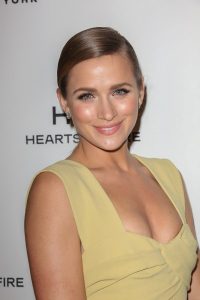 American model and actress Shantel VanSanten pursued acting full-time in the mid 2000s. She made her debut on the TV movie Three Wise Guys. Her next acting gig was on the direct-to-video film Savage Spirit. She gained recognition for starring in the film The Final Destination. Around the same time, she starred as Quinn James on One Tree Hill. She was a main cast from seasons 7-9. After One Tree Hill, she had recurring roles on Beauty & the Beast and The Flash. She also starred on the short-lived shows Gang Related and The Messengers. She will star as Julie Swagger on the upcoming series Shooter. Her latest film would be 2014's Something Wicked.
The 31-year-old actress has a slender figure. She may be gifted with a fast metabolism, but the actress also practices discipline in her overall lifestyle. She eats right not only to maintain her slender body, but also to be healthy. Her health and overall well-being is now one of her priorities that she's not getting any younger. In an interview, the actress revealed that she follows a specific diet that she discovered in a book called "Eat Right 4 Your Type". She even said that it's not like she is dieting because she still gets to eat well.
It is also good to know that she is fond is cooking healthy meals. Buying and choosing her own ingredients is the best way to ensure that what she's eating is really healthy. She is fond of eating egg whites, lean meats and fresh vegetables. When she's shooting for a television show or a film, she munches on granola bars and apple for her snacks. Though she avoids sweets, she always has candies in her bags. According to her, eating candies make her feel better. She just makes sure that she does so in moderation.