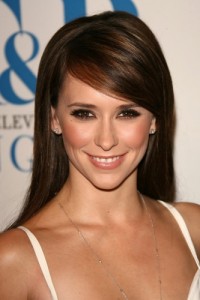 American celebrity Jennifer Love Hewitt started her career at a young age, first in commercials and later on television shows. After her stint in Disney's Kids Incorporated, she got significant attention for her starring role in Party of Five. As a movie star, she first rose to fame for starring in the smash hit I Know What You Did Last Summer (1997) and its sequel. She continued her movie career with roles in the action-comedy The Tuxedo and the romantic drama If Only, as well as the comedy feature Garfield: The Movie. Jennifer returned to television with lead roles in Ghost Whisperer, The Client List, and she's also recently appeared in Criminal Minds. In addition to that, Jennifer ventured to recording with her most successful single "How Do I Deal" released in 1999.
The 36-year-old actress and singer is not only known for being multi-talented and for her multiple ventures in the entertainment industry, she's also hugely prominent for her curvaceous figure, made more notable by her 5'2 stature. Nearing her 40s, in addition to her busy career and motherhood, how Jennifer stays in shape is one amazing achievement. One of her health tips is to not store foods int he fridge for too long. That's why the actress goes to the supermarket every two days.
Another secret is that she rarely keeps treats that might tempt her at night, as she knows how unhealthy this habit is. Just like everyone else, night time is the crucial period where people, mostly women crave for something fattening. In order to avoid that, she doesn't keep such treats. Also, Jennifer is not fond of dieting to the point of starving one's self. She loves food and eats regularly. She finds it disturbing that other women opt to follow the trend of being super skinny. Jennifer usually likes eating fruits, veggies, salads, and fish.