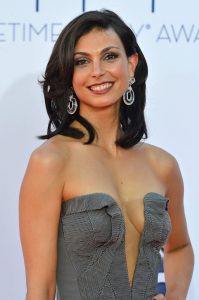 Hollywood star Morena Baccarin made her remarkable debut on the TV series Firefly. She was part of the main cast, playing the role of Inara Serra. Afterwards, she had recurring roles on The O.C. and Stargate SG-1. She also appeared in a couple of films in the first half of the 2000s. These films are Perfume, Roger Dodger, Firefly film continuation Serenity, and Death in Love. Further prominence came when she starred on the TV series V. It was, however, her role as Jessica Brody on Homeland that got her mainstream attention. She even received an Emmy nomination for this. As of 2014, she stars as Dr. Leslie Thompkins on Gotham. She also became widely known for playing the female lead Vanessa Carlysle in the film Deadpool.
The actress turns 40 in a few years and she looks radiant as ever. The mother of two is certainly looking slender and toned. Her recent gig in Deadpool also showed her remarkable sex appeal. Being in the crucial age, Morena knows how important it is to practice a healthy lifestyle. Thus, she eats right and exercises, too. Doing the right thing in terms of her eating habits and lifestyle makes her more energetic. She gains more strength by eating healthy foods and this makes her do her job more efficiently. This also allows her to function productively as an actress and as a mother.
In the morning, she already starts her day by eating a healthy breakfast. She prefers having an omelet or some cereal with fruits. She either has coffee or sometimes she prefers a glass fruit juice. For lunch, the actress focuses on consuming some lean protein, so she has chicken or fish. This is partnered with either rice or some pasta. For dinner, she goes light with a sandwich or a bowl of pasta. She just makes sure that the incorporates fruits and veggies in all her meals. For snacks, she even prefers fruits and nuts rather than processed and junk foods. No wonder she looks so amazing even for her age.