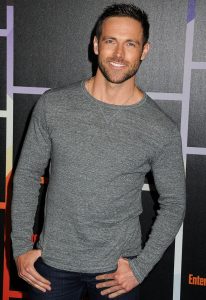 Canadian actor Dylan Bruce had his career beginnings in 2005. During his early years, he first played minor roles in such shows as Passions and Joey. He next had guest appearances in The Sopranos, CSI: NY, and Las Vegas. His first starring role on television was as Chris Hughes in the soap opera As the World Turns. In 2010, he made his film debut in Unstoppable. He later played Adam Donner in Arrow and James Dearing in Heroes Reborn.
He gained further recognition for his role as Paul Dierden in the acclaimed series Orphan Black, which he played from 2013 to 2016. At the same time, he played Bart Winslow in the TV movies Flowers in the Attic and Petals on the Wind. Following this, he played Tom Price in the series American Gothic and starred in the movie First Round Down. As of 2017, he plays the role of Bobo Winthrop in the NBC series Midnight, Texas.
Dylan's role in Orphan Black established his career as a television actor. It also established his beautiful physique among the ladies, especially since he's done his fair share of nudity for the show. Of course, the actor prepped for those scenes. He upped his workout routine in order to look great when he needs to take that shirt off and more. In general, the actor follows a vigorous workout regimen. It's part of his daily lifestyle. That's why he looks so great and he's also very confident about his body, all of it.
His body looks great that E! News even hailed him as The Best Ass on Primetime. So, what's his secret? He said: "Apparently the hockey butt is the butt to be desired nowadays, so I guess I'll start picking up ice hockey in my down time as well as squats and lunges. That's total commitment, 110 percent."