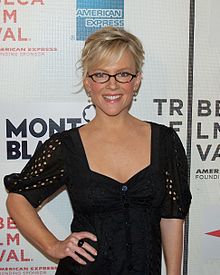 In 1992, actress Rachael Harris started her professional acting career. Her first role being the straight-to-video film Treehouse Trolls Forest of Fun and Wonder. The following year, she had her first television role in an episode of SeaQuest DSV. Later in 1998, she played recurring character Simone in the sitcom Sister, Sister. In the 2000s, she first had small roles in some films before landing more notable roles in such movies as The Haunted Mansion, After the Sunset, Kicking & Screaming, and For Your Consideration.
During this period, she also became known for her role as Debbie Dangle in the comedy series Reno 911! In 2007, she starred as Cooper in the short-lived sitcom Notes from the Underbelly. At the same time, she had performances in the films Matters of Life and Dating, License to Wed, The Hangover, and The Soloist.
In the 2010s, Harris played Susan Heffley in Diary of a Wimpy Kid and its sequels. She also played recurring roles as Tanya Lamontagne in New Girl and Sheila Sazs and Suits. As of 2016, she stars as Dr. Linda Martin in Lucifer. Other film roles include Lovesick, Night at the Museum: Secret of the Tomb, Barely Lethal, Freaks of Nature, and Brother Nature.
Apart from following a clean diet plan, Rachael Harris stays healthy by living an active lifestyle. Whenever she has free time, she exercises. Her workout routine is simple — she only combines cardio and meditative exercises like yoga.
She runs regularly, plays sports whenever she can, and engages in outdoor activities. Motherhood is also something that keeps her constantly busy and active. While being a mom and acting full-time makes it a challenge for her to find time to work out, she makes it up by simply doing simple stretches when working.