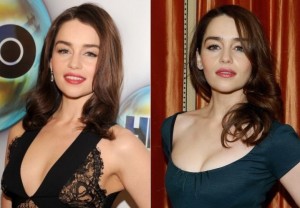 Early Life and Rise to Stardom
Emilia Clarke was born on October 26, 1986 in London, United Kingdom. She became interested in performing since she was three after seeing a musical. In her later life, she attended drama schools and graduated from Drama Centre London in 2009. Prior to working on television, she started her career by performing on stage. She has also done commercials.
Following her graduation from the Drama Centre, she made her small screen debut on the television series Doctors. In 2010, she played the role of Savannah Roundtree in the made-for-television film Triassic Attack. Her big break came the following year by the role of Daenerys Targaryen in the HBO series Game of Thrones, the television adaptation of George R.R. Martin's series of novels called A Song of Ice and Fire.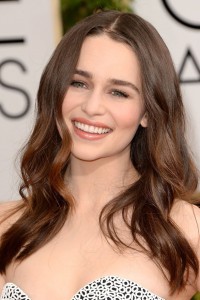 The TV adaptation of the said books has since become a worldwide hit, cementing Clarke's fame as an actress. She has starred in the show's five seasons and is also attached in the upcoming sixth season. For her role, she has been nominated for a Primetime Emmy Award for Outstanding Supporting Actress in 2013.
While involved with Game of Thrones, she has also starred in some feature films, making her first theatrical appearance in the 2012 movie Spike Island. The following year, she played the role of Evelyn in the British black comedy film Dom Hemingway. Her next role came recently in 2015 with Terminator Genisys, where she played Sarah Connor.
As a stage actress, she played Holly Golightly in the production of Breakfast at Tiffany's, marking her Broadway debut. She will star as Louisa Clark in the 2016 upcoming feature Me Before You. In 2014, she was voted as the world's most desirable woman by the readers of Askmen.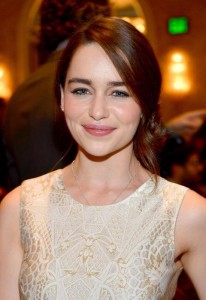 Has the Mother of Dragons had Plastic Surgery?
The fiery Khaleesi is unstoppable these days. From her regular gig on television and her collaboration with Arnold Schwarzenegger in the fifth Terminator film, her future in the acting industry seems to be golden. However, as she steals the spotlight, she becomes the target of plastic surgery rumors.
Compared to her debut in Game of Thrones back in 2011, Clarke has surely changed for the better these recent years. One claim is that of breast augmentation. Though it wouldn't make any sense as she had already appeared nude in her debut in Game of Thrones, back when she was still a newbie. So why would she try to get her breasts enhanced after her nudity?
Still, Clarke doesn't seem to like sharing her body these days. Her recent appearances in Game of Thrones show her covered with something when on a bed scene. She also reportedly turned down the role of Anastasia Steele in the film adaptation of Fifty Shades of Grey because she didn't want the nudity involved.
Thus, it is unlikely that she has undergone surgery for a boob job if she had no plans to show them. After all, celebrities go for boob jobs to showcase them on television and movies, right? Aside from rumors of breast implants, observers also think that Clarke has had something done to make her lips appear sexier through cosmetic enhancements. But these are just rumors and the actress herself hasn't addressed any of them. Also, many believe that her beauty is all natural and it would be a shame if she'd try to go under the knife for something she doesn't need.