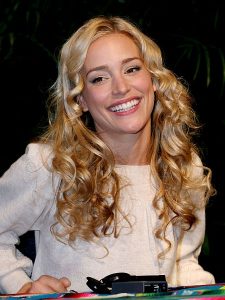 Getting her breakthrough in the 2000 film Coyote Ugly, Piper Perabo is now active both on film and television. After her breakout role, she starred in several other films in the 2000s. These include Lost and Delirious and Cheaper by the Dozen. Other films during this period were The Cave and The Prestige. She started the 2010s with a lead role on the TV series Covert Affairs. She played CIA Agent Annie Walker on the show that lasted five seasons. She will star as the lead on the upcoming series called Notorious. Additionally, she had starred in the films Looper and Into the Grizzly Maze in the 2010s. However, it seems she's more focused on her work on television now.
The 40-year-old actress has played dramatic to action-oriented roles and it's amazing how she can do both, or many other roles for that matter. Standing at around 5'6, Piper's physique is a combination of tenacity and appeal. As everyone can see, she's very sexy, but also very athletic and lean. No wonder she was chosen to play the lead on Covert Affairs. Considering she's in her 40s, it's incredible how the actress can keep up physically while looking young and gorgeous. She's since maintained her slender body mainly because her health and fitness are something that she prioritizes. To achieve this, Piper eats right and healthy. Basically, she prefers organic food and enjoys eating fruits and veggies.
As she's getting older, she has acknowledged the role of healthy eating not only to her appearance, but to her health in general. Of course, this relates to how she functions as an actress. When she was little, breakfast for her was milk and cereal, but it's not the same now. She tries to cut her intake of sugar and processed food. She actually tries her best to buy her food from the farmer's market for fresh supplies. Her favorite breakfast is salmon with pickled vegetables. She also makes her own vegetable juice. For lunch, she has Greek salad with kale while she opts fish and veggies for dinner.