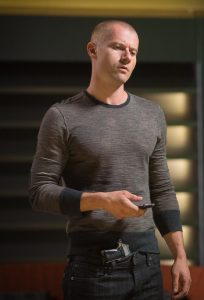 Hollywood actor James Badge Dale had his career beginnings in the 1990s. He first starred as Simon in the 1990 film adaptation of Lord of the Flies. A decade later, he returned to acting as an adult, initially guest-starring in Law & Order: Special Victims Unit and Hack. He then became known for his role as Chase Edmunds in the Fox series 24.
At the same time, Dale had performances in the films Nola, The Naked Brothers Band, and The Departed. He also had recurring roles in Rescue Me and The Black Donnellys. In 2010, he portrayed Robert Leckie in the miniseries The Pacific. He also starred as Will Travers in the short-lived series Rubicon. Afterward, he had roles in such films as Shame, The Conspirator, The Grey, Flight, and World War Z. The actor also played Eric Savin in Iron Man 3.
He went on to star in The Lone Ranger, Parkland, Miss Meadows, Stretch, Echoes of War, The Walk, 13 Hours: The Secret Soldiers of Benghazi, and Spectral. Continuing his prolific career on the big screen, he portrayed Jesse Steed in Only the Brave, followed by starring roles in Little Woods, Donnybrook, The Standoff at Sparrow Creek, Hold the Dark, and Mickey and the Bear. In 2019, he starred in the film The Kitchen. His upcoming works include the Starz series Hightown and the films The Empty Man and Safety.
For his many roles on film and television, James Badge Dale knows he needs to stay fit and strong. Nonetheless, his workout routine usually depends on the kind of role he'd play. For instance, playing a Navy SEAL in the movie 13 Hours: The Secret Soldiers of Benghazi meant only one thing for the actor — intensify his fitness regimen. According to him, he spent two months in intense training where he consumed 5,000 calories per day to gain 20 pounds.