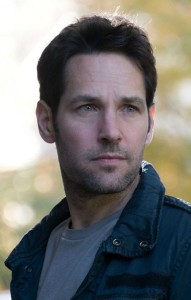 American actor Paul Rudd is mostly known for his work on comedies and romantic comedies, but his recent lead role in Marvel's Ant-Man only proved that he can pull off any roles, even one that requires him to become a superhero. Starting his career in the 1990s, he first became known for his role in Clueless released in 1995. In the 2000s, he starred in several comedy films, including Wet Hot American Summer, Anchorman: The Legend of Ron Burgundy, and The 40-Year-Old Virgin. He contined his comedic work in the box office hits Night at the Museum, Knocked Up, Forgetting Sarah Marshall, Role Models, and I Love You, Man. In the 2010s, he played lead roles in Our Idiot Brother, Wanderlust, This Is 40, and Anchorman 2: The Legend Continues, further strengthening his work as a cinematic actor. His recently successful portrayal of Ant-Man in the movie of the same name led him to be a part of the upcoming superhero feature Captain America: Civil War, which will be released in 2016.
Since he's mostly associated with comedies and rom coms, we don't really see Paul get all bulked up for his film roles. Basically, he has an average body but we can also see how fit and healthy he is, which is maybe why he still looks so young and charming despite already being in his late 40s. For his recent venture in a movie based on the Marvel Comics character of the same name, Paul needed to prepare physically. Though he didn't need to gain so much muscles for his role, the actor was required to work out more often and with more effort to perfect his action scenes, which means he needed further agility. But of course, it wouldn't hurt to look bulked up a little bit.
With this, Paul gained prominent increase on the size of his chest, arms, and legs, while his waist size decreased and his body fat reduced dramatically. Working with trainer Brendan Johnston, the actor's physique really changed and improved. Basically, his workout routine was divided to two circuits. The first comprised dumbbell bench presses for 10 reps, dumbbell bent-over rows for 10 reps for each arm, v-ups, and double under in which he used jump rope for 30 seconds. For circuit 2, his routine consisted of dumbbell flye, weighted pull-ups, medicine ball slams, and oblique crunch doing 25 reps on each side.