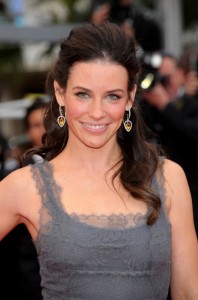 Canadian star Evangeline Lilly first came to mainstream prominence for playing Kate Austen in the popular television series Lost (2004-2010). Her portrayal was widely praised by critics, considering she only played a few uncredited roles on television prior to her breakthrough. For her performance in Lost, she received a Golden Globe nomination for Best Actress in 2007. Simultaneously, she appeared in the films The Long Weekend, Afterwards, and The Hurt Locker. She next starred opposite Hugh Jackman in Real Steel and returned to international radar for playing Tauriel in The Hobbit: The Desolation of Smaug and The Hobbit: The Battle of the Five Armies, released subsequently in 2013 and 2014. She recently played the female lead in the superhero movie Ant-Man.
The 36-year-old actress may not star in too many films despite being a household name, but when she does, she makes sure her presence is memorable. Standing at 5'6 and now a mother of two, Evangeline was able to maintain her slender figure successfully, making her play her action-oriented roles greatly with her looking good and agile at the same time. It certainly has something to do with her healthy choice of eating. Interestingly, she usually eats plant-based foods with 75% of these still raw. She loves eating organic foods consisting of mostly veggies, in addition to lots of fruits and nuts.
Evangeline prefers her foods mostly raw to retain their nutrients and minerals. Foods cooked above 116 degrees Fahrenheit tend to lose their actual vitamins. Because of this, she uses a dehydrator to blow hot air over the fruits and veggies so that the temperature never reaches 116 degrees Fahrenheit. Her diet plan allows her to avoid bad fats, cholesterol and carbs. Though she mostly likes eating healthy foods, the actress admitted to having a weakness to sweets, so not wanting to deprive herself, she eats something sweet once a day.