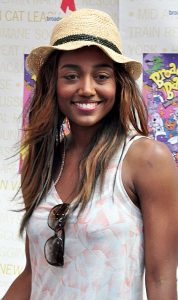 Hollywood star Patina Miller had her career start in the late 2000s. Her initial years saw her making her television debut in the soap opera All My Children. In the show, she played the role of Pam Henderson from 2007 to 2008. After this, she focused performing on stage. Most notably, she played Deloris Van Cartier in the Broadway production of Sister Act. She next played the lead in the Broadway production of Pippin.
Following this, she returned to the screen after landing the role of Daisy Grant in the CBS series Madam Secretary. She started playing the said character in 2014. During this period, she starred as Commander Paylor in the movie The Hunger Games: Mockingjay – Part 1. This also marked her cinematic debut. She reprised said role in the sequel The Hunger Games: Mockingjay – Part 2. In 2016, she was the narrator of the animated show Word Party. She also played Charlotte in 6 episodes of Mercy Street.
The 33-year-old actress stays in shape by sticking to an active lifestyle. Despite her crazy schedule, she tries her best to exercise as often as she could. "I try to work out on a daily basis, eat clean and drink tons of water! Some days are – of course – better than others, but for the most part I just try to keep myself feeling good," she said.
As for her favorite exercises, she said: "There isn't really a workout that I don't love. I'm pretty active at all times and I love a good challenge so I'm down for pretty much anything fitness related. I don't necessarily love barre-type classes and I haven't gotten on the cycling wagon yet…but you never know!" Working as an actress both on the stage and screen also keeps her very active. Since there's always a physical side to performing, her full-time work itself already counts as her workout.