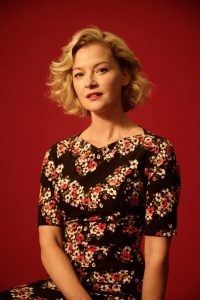 It was in 1996 that actress Gretchen Mol got her start in the show business. She later had roles in other films, such as Donnie Brasco, The Last Time I Committed Suicide, and Rounders. She later performed in the movies Celebrity, Finding Graceland, Cradle Will Rock, and Sweet and Lowdown. During this period, she also appeared in a few made-for-television films. In the 2000s, she appeared in the movie Shape of Things. She later became further known for her portrayal of Bettie Page in the biographical movie The Notorious Bettie Page.
She next starred in the films Puccini for Beginners, The Ten, Trainwreck: My Life as an Idiot, 3:10 to Yuma, and An American Affair. From 2008 to 2009, she also starred as Annie Norris in the short-lived show Life on Mars. She rose to greater fame thanks to her role as Gillian Darmody in the acclaimed HBO series Boardwalk Empire. After this, she had a recurring role as Nina in Mozart in the Jungle. She next starred in the short-lived shows Chance and Nightflyers. Her recent work on television was as Sam Hennessy in the crime drama series Seven Seconds. She's also had roles in the 2016 films Manchester by the Sea and A Family Man.
Thanks to her active lifestyle, the film and television actress is able to maintain her slender figure and healthy weight. She's also able to maintain her toned body. Exercise is crucial for her, which is why she spends her free time working out, among other activities. "When I have my own time I like to work out, eat with friends, see things with my friends or my husband. I enjoy movies, theater and art galleries. I tend to make projects for myself around the house," she said.
Despite being a mother of two, the actress was also able to regain her slim body, which she achieved with the help of a trainer. She revealed: "I used a trainer after my first baby who gave me a series of Pilates-based exercises that I still use. Right now, I'm a fan of the old-fashioned Stairmaster. I hate high-impact exercise."