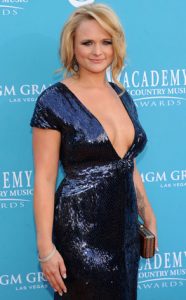 It was in 2005 that country singer-songwriter Miranda Lambert began her career. This was the year she released her first studio album Kerosene. About two years later, she released her second album Crazy Ex-Girlfriend. This generated the hit singles "Famous in a Small Town", "Gunpowder & Lead", and "More Like Her". This was followed by Revolution, spawning the songs "The House That Built Me" and "Heart Like Mine".
She continued her musical work in the 2010s. During this period, she released her fourth album Four the Record with the hit songs "Baggage Claim" and "Over You". Her fifth album, Platinum, came out in 2014. It won the Best Country Album Award at the Grammys. Its lead song "Automatic" also reached Number 5 on country charts. In 2016, she released her sixth album The Weight of These Wings with the song "Vice" as its lead single.
Miranda Lambert's physical transformation throughout the years has been remarkable. Struggling with her body, she has since managed to lose weight and maintain a healthy lifestyle. Ever since her huge weight loss transformation in 2013, there are rumors that say that the award-winning singer owes her new body to a weight loss surgery. But, Miranda has since denied the reports, saying that she's lost weight because she started to follow a clean diet plan and regular workout routine.
To keep herself active, Miranda works with her trainer to help her train vigorously. She's also taken up new hobbies to get herself more physically engaged. One of these hobbies that she's taken quite a liking is English riding lessons. The celebrity said that sports help her to "clear her mind" while still allowing her body to be active. According to her, she performs "bodyweight exercises, resistance-band moves, and circuit training" with her trainer. Because she's been pretty much disciplined as far as her lifestyle is concerned, this helped her singer lose weight substantially.