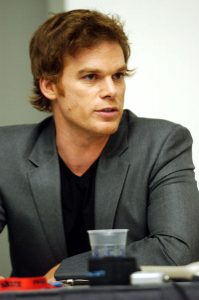 American actor Michael C. Hall had his career beginnings in the early 2000s. He made his debut as David Fisher in the HBO series Six Feet Under, which aired for five seasons. His role here earned him a Primetime Emmy nomination for Outstanding Lead Actor in a Drama Series. His first movie appearance was in 2003's Paycheck, followed by the film Bereft. After Six Feet Under, he landed the lead role of Dexter Morgan in the Showtime series Dexter, which brought him wider recognition.
It also won him a Golden Globe for Best Actor in 2010, as well as Primetime Emmy nominations. Dexter aired its final season in 2013. Afterward, he starred in the movies Kill Your Darlings, Cold in July, Christine, and Mark Felt: The Man Who Brought Down the White House. This year, he starred in the features Game Night and The Gettysburg Address. He's currently filming the movie The Torture Report. In addition, he also portrayed John F. Kennedy in an episode of The Crown.
For his notable role of Dexter Morgan in the show Dexter, the actor underwent a vigorous physical training, which also involved a huge change in his diet plan. Of course, in order for his workout routine to be more effective, he needed to consume the right kind of food. First thing in the morning, the actor would drink 20 ounces of water, followed by a breakfast consisting of eggs, whey protein shakes, almonds, and bananas.
For lunch, he typically would have vegetable salad with avocados and raw seeds. For dinner, it's usually grilled chicken or fish, vegetables, and rice. Drinking fruit shakes was also part of his diet plan. He usually drank shakes with "coconut water, scoop of protein powder, avocado, flaxseed oil, Hawaiian Spirulina, and cinnamon", as well as other nutritious ingredients like blueberries. For snacking, the actor munched on raw nuts, organic raisins, and raw sunflower seeds.