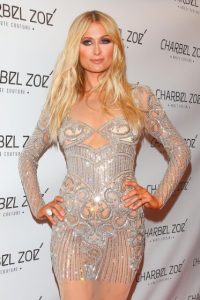 Socialite Paris Hilton started working as a model during her teens. She then became further known after a sex tape of her with her then-boyfriend was leaked in 2003. Afterwards, she starred in her own reality series The Simple Life with fellow socialite Nicole Richie. The show lasted for five seasons, making her more of a television staple. Simultaneously, she also released the book Confessions of an Heiress. It became a New York Times Best Seller. She's also ventured into movies, playing a supporting role in House of Wax. After this, she started a recording career. Her first single was "Stars Are Blind", which became an international hit. She next returned to reality TV with Paris Hilton's My New BFF. It has since released the spin-offs Paris Hilton's British Best Friend and Paris Hilton's Dubai BFF. In the 2010s, she had another reality show, The World According to Paris.
The 36-year-old actress maintains her slender figure by living a healthy lifestyle. She does this by eating healthy and working out. On the other hand, she admits that this wasn't the case when she was younger. She revealed that she often ate fast foods and drank sodas and energy drinks when she was younger. She also didn't exercise as her form of work out was her partying.
Even until now the actress says she doesn't like going to the gym. She said she was a tomboy growing up that she prefers outdoor activities rather than hitting the gym. But if there's one form of exercise that she likes, it's Pilates. She said: "It's a great way to exercise because you use so many muscles and get a really good workout. I use the machines, not mat Pilates, and it just works for me." With her now healthy eating habits and Pilates regimen, she's able to stay in shape.