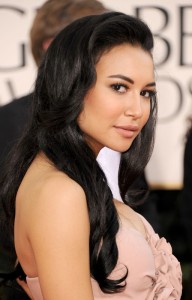 American actress and singer Naya Rivera began her role as early as the 1990s with a regular role in the short-lived sitcom The Royal Family. Afterwards, she busied herself acting on several shows as a child actress. The only time she played a notable character was already in the 2000s with The Bernie Mac Show, though it was only a recurring part. She found mainstream success as a grown-up actress for her role as Santana Lopez in Glee, which she played for six seasons. Through Glee, she was able to perform in Glee: The 3D Concert Movie. She then made her movie debut in At the Devil's Door. After Glee, she began playing a recurring character in Devious Maids.
The 28-year-old celebrity is famous not only for her singing voice but also for her gorgeous physique. Standing at 5'5, she surely is slender but strong and agile at the same time, made obvious by her dance moves in Glee. For one, Naya is not into any crash diet plans, obviously since she seems the kind of person that's full of energy. She believes in the importance of healthy eating and with this, she is cautious when it comes to choosing the food she eats. Because she's lactose intolerant, she doesn't consume any dairy products.
For snacks, instead of eating processed or junk foods, she eats guacamole, hummus, and kale chips. She's fond of salmon because of its richness of omega-3 fatty acid, which she makes sure becomes a regular part of her dietary regimen. Although she tries to avoid tasty foods that are not so healthy, she allows herself to eat them once in a while. Delectable treats such as pizza and burger are some of the cravings she has, but she always makes sure that she's cautious of the portion she eats.