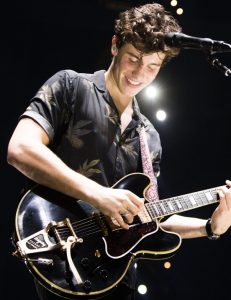 Shawn Mendes got his start by posting covers of songs on Vine, leading him to garner attention. With this, he was signed to a recording label and professionally starting his singing career. In 2014, he released his self-titled debut EP. The following year, he released his debut studio album, Handwritten. It spawned the hit single "Stitches", which reached atop the UK chart list and peaked at Number 10 in the US and Canada.
In 2016, Mendes released his second album Illuminate. The album generated the hit songs "Treat You Better" and "There's Nothing Holdin' Me Back". Both songs reached the Top 10 in several countries. In 2018, his third album, Shawn Mendes, came out with the lead single "In My Blood". All these albums reached Number 1 on the US Billboard 200. Mendes is one of the youngest singers to have three Number 1 albums.
Just last year, he released the songs "If I Can't Have You" and "Señorita" with the latter reaching atop the US Billboard Hot 100. In addition, Mendes has since headlined four concert tours — #ShawnsFirstHeadlines, Shawn Mendes World Tour, Illuminate World Tour, and Shawn Mendes: The Tour. He's also received three Grammy Awards nominations. In addition to recording, the singer has also tried acting. He debuted with a one-episode role in The CW's The 100 in 2016, playing the role of Macallan. He's also appeared as himself on Saturday Night Live.
From being a scrawny teenager, Shawn Mendes has definitely gone a long way physique-wise. It's also not a big surprise since the singer shares some of his workout details on social media platforms. In an interview, though, he admits that it's his workout routine that gets him all bulked up and nothing to do with his diet. "I eat tons of carbs. I just work out a lot, dude. I go to the gym every morning, and I'm obsessed with fitness and just staying active," said Mendes.