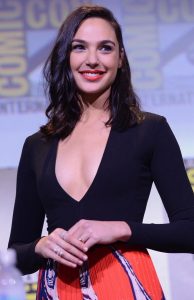 Hollywood star Gal Gadot was first Miss Israel 2004 before she ventured into modeling and ultimately acting. She started acting in her native country debuting on television. In the late 2000s, she decided to pursue a career in Hollywood, making her debut as Gisele Yashar in the film Fast & Furious. She next appeared in the movies Date Night and Knight and Day.
Afterwards, she reprised her role as Gisele in Fast Five and Fast & Furious 6. She also starred in the Israeli movie Kicking Out Shoshana. She got her huge break after winning the role of Diana Prince / Wonder Woman, which she first played in Batman v Superman: Dawn of Justice. She reprised her role in her own movie, Wonder Woman, which was a huge box office success. She will also play Wonder Woman in Justice League.
When Gal Gadot was cast for the role of Wonder Woman, a lot of people believed it was a bad choice. Being an Amazon warrior, many thought the actress was too slender and soft for the role. But she proved them all wrong. Not only did she portray the role incredibly, the film also turned out to be a huge box office hit, earning $749 million. Of course, the actress worked so hard for the role. She spent time working out and training to become stronger and build a body fit for a warrior. To do this, she was guided her by trainers all throughout her journey.
According to reports, she mixed cardio training, martial arts and weight training to develop a stronger body. It was said that the workout regimen she followed was the same regimen Gerard Butler used to train for 300. Her training regimen would begin with a cardio warm-up, before performing 6-8 weight training and metabolic workouts. Her trainers would normally make her undergo a complete body workout. Her trainers also said that she w rowing for cardio since it's more low-risk.