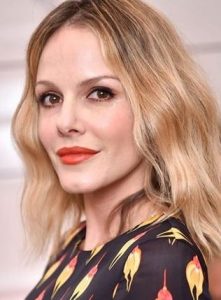 Actress Monet Mazur had her career beginnings in the 1990s. Her first ever role came in 1993, as Brandee Fields in the daytime soap opera Days of Our Lives. She simultaneously had her first film role as an extra in Addams Family Values. Her first credited role was in the independent movie Raging Angels. She also appeared as an extra in a few more films. Finally, she had a role in the 1999 film Mystery Men.
In the 2000s, she landed movie parts in Blow, Angel Eyes, The Learning Curve, 40 Days and 40 Nights, Stark Raving Mad, Kiss the Bride, Just Married, Just Married, and Torque. She went on to have performances in more films during this period, including in Monster-in-Law and In Memory of My Father. In 2005, she portrayed Anita Pallenberg in the movie Stoned.
Her first lead role was in the film Whirlygirl where she played the titular character. She next starred in the movies Live!, The Last International Playboy, The House Bunny, and Dead Man Running. On television, her first starring role was as Laura Fine-Baker in The CW drama All American, which she has been playing since 2018. In addition, Mazur has had roles in some TV movies, including 2012's Adopting Terror.
Apart from exercise, Monet Mazur stays healthy by eating well. As part of her diet plan, she stays away from processed and junk foods. Healthy eating is basically just one of the things she does to remain vibrant. Already in her 40s, she rarely finds herself craving for sugary or salty foods.
To practice clean eating, she incorporates fruits and veggies into her meals each day. She gets her protein from healthier options like fish and chicken. She also has regular intake of healthy fats while she cuts down on carbs. Nonetheless, she doesn't deprive herself of food and allows herself to indulge in her cravings every now and then.