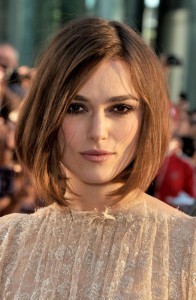 English actress Keira Knightley first gained attention for her role in Bend It Like Beckham released in 2002. This led her to be noticed in Hollywood, which helped her land the role of Elizabeth Swann in the Pirates of the Caribbean film series, which began with Pirates of the Caribbean: The Curse of the Black Pearl in 2003. After playing Guinevere in King Arthur (2004), she achieved acclaim for her portrayal of Elizabeth Bennet in Pride & Prejudice (2005), which earned her an Oscar nomination for Best Actress.
She once again received critical praise for her performance in Atonement (2007), earning her a Golden Globe for Best Actress. In the subsequent years, she had memorable performances in The Duchess, Never Let Me Go, A Dangerous Method and portrayed the titular character in Anna Karenina. Her most recent work as a cinematic actress are Jack Ryan: Shadow Recruit and The Imitation Game, the latter of which she received an Oscar nomination for Best Supporting Actress for her portrayal of Joan Clarke.
Known for her memorable performances in several movies, Keira is also very slim at 5'7, which often mistakes her of having an eating disorder, something that the actress has since denied about. Surprisingly, despite her very thin frame, her mother revealed how the actress is actually a food lover. The celebrity herself said that she has six small meals in a day and, apparently, is very cautious with the amount of food she's having. According to her award-winning actress, she doesn't put too much limit on the foods that she eats but always keeps in mind to only have small portions.
Her mother also revealed that her daughter's slim figure has nothing to do with any eating order but is rather genetic. In fact, Keira's diet usually consists of foods high in proteins and carbs to make sure she doesn't stay too slim. It is even fortunate that Keira doesn't put on significant weight whatever she eats. Interestingly, the actress was put on a special diet for her role in King Arthur, but since that diet plan required her to eat less, she reportedly refused to follow the diet chart and stuck to her normal eating habits.