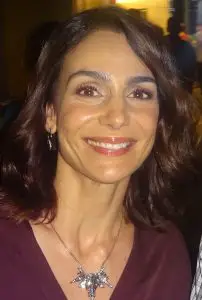 Annie Parisse debuted as an actress in the late 1990s. The first role she landed was as Julia Snyder in the CBS soap opera As the World Turns. The role was a regular gig that she played for a couple of years from 1998 to 2003. At the same time, she made her first movie appearance in On the Q.T. She also guest-starred in Big Apple, Third Watch, Law & Order, and Friends. During this period, she simultaneously had performances in the films How to Lose a Guy in 10 Days, National Treasure, Prime, and Monster-in-Law.
Later, she had supporting roles in the movies Blackbird, What Just Happened, Definitely, Maybe, and Tickling Leo. On television, Parisse gained wider recognition for starring as Alexandra Borgia in the NBC series Law & Order, which she played between 2005 and 2006. At the beginning of the 2010s, the actress first had guest roles in Fringe, The Pacific, and The Big C, plus she also had recurring roles in Rubicon and Unforgettable. Between 2011 and 2016, she played recurring character Kara Stanton in Person of Interest.
In 2013, she played Debra Parker in The Following. After this, she played Andrea Zito in the short-lived HBO series Vinyl. From 2017 to 2019, she starred as Sam Delmonico in the Netflix series Friends from College. She also appeared in 4 episodes of the miniseries The Looming Tower. Also in the 2010s, Parisse had roles in the films My Own Love Song, The Tested, Price Check, One for the Money, Wild Canaries, And So It Goes, and Anesthesia.
To stay in great shape, Annie Parisse not only eats well, she also exercises diligently. As an actress, she pretty much lives an active lifestyle. She's always on the go and that counts physical activity on her end. Her go-to workouts are yoga, Pilates, and cardio. She also enjoys outdoor activities and some sports.