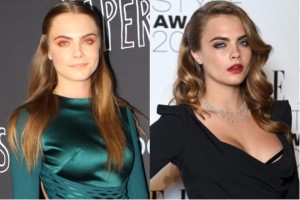 Early Career and Success in Modeling and Acting
Cara Delevingne was born on August 12, 1992 in Hammersmith, London, UK. At school, she was challenged as she suffered with dyspraxia. She moved to Hampshire at age 16 to attend a different school where she focused on drama and music, but she only studied there for a year after deciding she wanted to pursue modeling just like her sister, Poppy. Initially, she started modeling when she was 10 when she appeared in Vogue Italia.
In 2009, after quitting school, she was discovered by the founder of Storm Model Management and was signed with the said agency. She worked hard for a year before booking her first professional, paying modeling gig. Her first paid job was in the spring/summer 2011 campaign of Burberry. In February 2011, she made her catwalk debut in the London Fashion Week. She would model for Burberry a few more times after this and appeared in the September 2011 London Fashion Week.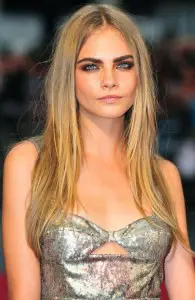 Further success in the fashion world came when she appeared in nine shows at the New York Fashion Week in 2012, walking the runway for such fashion houses as Donna Karan, Tory Burch, Oscar de la Renta and Carolina Herrera. She next appeared in the London Fashion Week, then in the Milan Fashion Week, and the Paris Fashion Week. The aforementioned fashion weeks established her as a well-known runway model and her status in the industry has greatly increased. She continues to work as an international model up to present.
Aside from modeling, Delevingne has also ventured into acting, making her first appearance as Princess Sorokina in Joe Wright's 2012 film adaptation of Anna Karenina. That same year, she appeared in The Victoria's Secret Fashion Show. Her next acting role came in 2014 with the British psychological thriller film The Face of an Angel. She was one of the film's lead characters. The following year, she starred in the comedy-drama movie Paper Towns, exposing her to more moviegoers. In 2015, she acted in more films: Pan, Kids in Love, Tulip Fever, and London Fields. She will portray June Moone / Enchantress in the much-awaited film Suicide Squad.
Has Cara Delevingne had Plastic Surgery?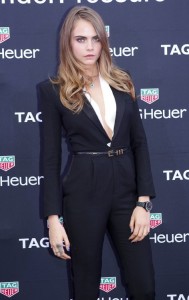 23-year-old model and actress has created much buzz lately brought not only by her modeling and acting work, but for her incredible fashion sense, her friendship with other famous stars, and for being open about her sexuality (she is bisexual). Due to her popularity these days, young women idolize her style and fierce beauty. Widely known for her luscious brows, Delevingne has awaken other women's desire for brows like hers, starting a trend for a cosmetic enhancement to achieve her much-wanted eyebrows.
When it comes to cosmetic procedure that Delevingne has undergone herself to enhance her looks, it only seems that there's nothing about her that appears suspiciously fake. Thus far, the English beauty looks naturally beautiful. Her facial features are flawless, but it doesn't mean that they're products of plastic surgery. She's just blessed with amazing genes. It also looks like her body is untouched by any surgeries as well. Having a slender figure, her cup size is also of average size, just proportional to her thin body frame.