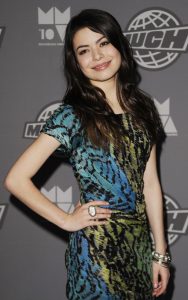 It was in 2001 that Miranda Cosgrove had her career beginnings. She first appeared in the pilot episode of Smallville as the young Lana Lang. She next made her cinematic debut as Summer in the movie School of Rock. Afterwards, she had roles in the films Yours, Mine and Ours and Keeping Up with the Steins.
Her first starring role on the small screen was as Megan Parker in the Nickelodeon series Drake & Josh. She reprised her role in the TV movie Drake & Josh Go Hollywood. She found further success after landing the lead role of Carly Shay in the Nickelodeon sitcom iCarly. While in the show, she also starred in the movie The Wild Stallion. She also voiced Margo in Despicable Me and its sequels. More recently, she starred in the movie The Intruders and played Shea Moore in the TV series Crowded.
The 25-year-old actress sustains her health and fitness by keeping an active lifestyle. Unlike many young stars Hollywood, Miranda is not a fan of hitting the gym. Instead of working out there, she prefers to stay outdoors. She loves biking and hiking with her friends. Even though she doesn't exercise in gyms, she's able to maintain her slender figure because she's always moving around. She tries to eat healthily and she loves to be on-the-go.
In an interview, Miranda said about her fitness: "I don't ever go to the gym. I just hike a lot. My best friend and I walk near my house every night." She's not pressured into having a certain kind of body that's why she feels that being active outdoors is enough for her to stay fit and healthy. She said: "I'm at a place where I'm like really comfortable in my own skin. I don't worry anywhere near as much as I used to. When I was younger, I would just stress about everything and I wanted everything to go well so badly that I didn't really enjoy the moment enough."