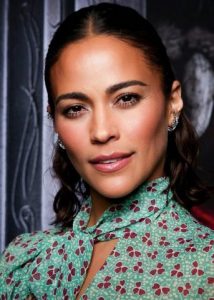 It was in 2005 that Paula Patton's career in the show business started. She made her debut in the film Hitch. She later became further noticed for her role in thriller film Déjà Vu. Subsequently, she starred in the movies Mirrors, Swing Vote, and Precious. In the 2010s, she became more active both on television and film. She had her first TV appearance in an episode of Law & Order: Special Victims Unit. At the same time, she starred in the film Just Wright.
She found greater success for her role as Jane Carter in the film Mission: Impossible – Ghost Protocol. She has since starred in the feature films Jumping the Broom, Disconnect, 2 Guns, Baggage Claim, and About Last Night. In 2016, she starred in 3 films – The Perfect Match which she also produced, The Do-Over, and Warcraft. This year, she starred in the film Traffik. In addition, she plays the role of Laura Price in the ABC series Somewhere Between, which she started playing in 2017.
The actress stays in shape by living a healthy lifestyle. She eats well and she also works out. More recently, Paula reveals she's into the new fitness trend CrossFit. "I have to tell you, as a fairly new mom, the idea of being able to do a 7 to 30-minute workout and know it's enough is pretty amazing," she said. She even considers it as the perfect mom workout. She said: "I mean because it's so hard to find the time [to hit the gym], but you need to because something about when you work out the endorphins it lets out – the stress that you have just melts away."
She also trained more vigorously for her role in Mission: Impossible – Ghost Protocol. "After having a baby and then getting the role and having to do that much intense workout, I certainly didn't want to go home and give it all up. My trainer taught me so many different things – martial arts and various styles of kickboxing and boxing and capoeira. It's important to mix it up because it keeps it interesting. You don't want to get bored in your workout routine," she was noted for saying.